AEROSPACE MEDICINE CLERSKHIP
Ever dreamt of being an astronaut? What about being the doctor who takes care of astronauts? If so, then aerospace medicine, and an elective clerkship at NASA might be just for you.
Before reading more about the NASA clerkship, you may want to read a recent post about what aerospace medicine is.
WHAT IS A TYPICAL SCHEDULE?
The four-week Aerospace Medicine Clerkship is offered twice annually during April and October at the Lyndon B. Johnson Space Center (located in Houston, TX) and typically begins the first Monday and concludes on the last Friday of the month. The clerkship involves formal lectures on space medicine topics and issues, familiarization with the medical aspects of International Space Station operations, design, and function as well as Exploration Medical Capability for deep space exploration.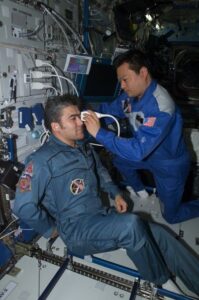 Clerkship participants are required to complete a research project and scientific poster with an accompanying 250-word abstract in a current focus area of space medicine, which will be presented in an open forum poster session for not only the JSC Space Medicine Operations and clinical community, but other interested divisions/elements at JSC.
During the clerkship, you will be exposed to a variety of space medicine topics given in presentations, lectures, and tours, such as the medical equipment available to crew members in space, space physiology, radiation monitoring, tours of the training facilities, etc. The daily activities will include both presentations and tours, as well as time for you to work on your project. The schedules are always subject to change. You will be present/available M-F 8:00 am – 5:00 pm.
This clerkship is considered an educational/research clerkship and is non-clinical. Therefore, contact/interaction with patients during the clerkship should not be expected.
WHAT ARE THE APPLICATION REQUIREMENTS?
Interested persons must be a US Citizen (or hold dual citizenship to include the US). The minimum educational requirement is to be in your final year of medical school. (residents and attending physicians are eligible to apply). And finally, you must have an interest in Aerospace Medicine and plan to apply in future career goals.
WANT TO READ A FIRST-HAND ACCOUNT?
For a first-hand account of the NASA clerkship, check out this 2019 article from the Albert Einstein College of Medicine in New York City.
READY TO TAKE YOUR MEDICAL CAREER TO "INFINITY AND BEYOND?"
We know what it takes to be a doctor. We are the second oldest private medical university in the Caribbean, producing physicians for the world since 1982. If you have always dreamed of being a physician, helping those in need, and earning the respect of your community, then UHSA is right for you.
ACCELERATED PREMEDICAL PROGRAM
If you are a high school graduate, or a university graduate who lacks the premedical pre-requisite courses, why not join our premedical program? It will give you all the credits you need to be promoted to our world-class MD program.
If you are a university graduate who has the premedical pre-requisites, then look at direct entry into our MD program, where you will learn to be not only a physician, but a healthcare leader.
EARN YOUR MD AND MASTERS OF PUBLIC HEALTH (MPH)
If you want to work in in global health, or just want to expand your understanding of the role of public health and prevention while also enhancing your career prospects, then our joint MD/MPH program is right for you.
We would love to have you join the UHSA family! Please contact our Admissions Team to learn more about living your dream with UHSA family.