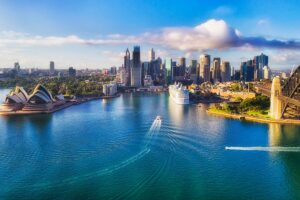 Life-Work Balance Down Under
What's not to love about Australia?  Beautiful beaches where you can dive and surf.  Snowy mountains where you can hike and ski.  Friendly people, barbecues, and most importantly, incredible opportunities for overseas trained doctors!
Australia offers multiple opportunities for foreign medical graduates, including flexible pathways to licensure and practice.  In fact, no other country may be as welcoming to overseas trained doctors as Australia is.  Plus, Australia also offers some of the highest pay rates for physicians globally (even higher than the United States).  And, each year Australia consistently ranks in the top five places to live globally for life-work balance alongside Canada, Norway, Sweden, and Denmark.
But that's not all.  Australia also offers seamless pathways that allow international medical graduates to enter practice following graduation from schools like UHSA.
Pathway to Practice
To practice in Australia, a graduate will need Australian Health Practitioner Regulation Agency (AHPRA) registration.
International medical graduates will have to successfully complete the Australian Medical Council (AMC) exams and do an intern year.
The internship year should be done in a setting similar to Australia, such as a rotating internship in the United States, or even the internship program available at Mount St John's Medical Centre in Antigua.
The AMC exams are a requirement for all IMG's. There are two parts: Part 1 is an MCQ exam and Part 2 is an OSCE.
Typically, AMC1 + AMC2 + Intern Year = AHPRA registration.
AHPRA registration allows you to seek employment in general practice (under supervision in an area of need).
General practice physicians may enrol in programs to achieve board-certification even while working and earning a high salary.
AHPRA also allows you to look for work as a career medical officer in hospital settings, such as acute care and emergency departments.
And it allows you to seek additional training in a specialty area (residency).
Highest Salaries in General Practice/Family Medicine
Australia has some of the highest salaries for general practitioners (family physicians) in the world.  The 2018 Alecto GP Salary Survey found that GPs in the UK work on average 42-hours per week and earn $120,000 per year.  US family physicians work on average 52-hours per week and earn $190,000 per year.  While in Australia, general practitioners work on average 41-hours per week and earn $380,000 per year.  And the more rural you go, the more you will earn.
Living Your Dream Down Under with UHSA
To be eligible to pursue licensure in Australia, a medical school must be listed in the World Directory of Medical Schools (WDMS).  As the second-oldest private medical school in the Caribbean Basin, not only is UHSA listed in the WDMS, but we have the necessary programs and insight to help you achieve your goal of becoming a licensed physician in Australia, as well as other popular destinations around the world.
If you would like to learn more about becoming a part of the UHSA family, and living your dream of becoming a world-class physician and leader, contact an admissions representative: admissions@uhsa.edu.ag. 
Please note: Pathways to practice may change without warning as each jurisdiction maintains their own standards.  As such, those interested in practicing in Australia, or any jurisdiction, should educate themselves on the various requirements.