AMA FREIDA™ CAN HELP YOU ORGANIZE YOUR RESIDENCY SEARCH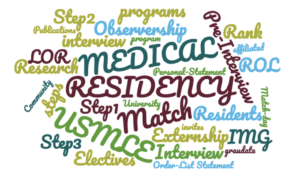 Many medical students are puzzled over how to find residency programs, let alone information on what these programs offer residents, and require of applicants.
Launched in 1991 by the American Medical Association, the Fellowship and Residency Database known as FREIDA is the tool you have been looking for to locate and organize your search for a residency or fellowship position.
FREIDA™ allows you to search over 12,000 programs in the United States.
FREIDA™ CAN TAKE THE STRESS OUT OF FINDING THE PERFRECT PROGRAM
You can search by program, state, region, institution, and more for free.
You can even do sophisticated searches by key statistics, such as USMLE minimum scores, application dates, programs accepting off-cycle applicants, hospitalist track, community-based tracks, rural versus urban programs, maps of training programs in geographic areas, and so forth.
FREIDA™ also provides you statistics to help determine which programs are right for you, such as average days on call across the program, how many residents and fellows are foreign medical graduates, free parking, child care on site, opportunities for international electives, and more.
Plus, with FREIDA™ you can find quick links to program websites, contact information, and more to make applying to your ideal programs easier than ever.
PREMIMUM FEATURES
The basic features are always free to any user. However, if you would like to save searches in compression tables, automatically generate comparisons of programs in tabular format, make notations, and even develop a custom dashboard, then you will need to premium version of FREIDA™ which comes with an American Medical Association membership.
READY TO START YOUR MEDICAL CAREER?
If you are, then UHSA is for you. We are the second oldest medical school in the Caribbean Basin. That means we know what it takes to make great doctors. We have three programs for you to choose from.
Traditional MD Program – for those how have pre-requisites need for admission to medical school, this is the program for you.
Joint MD/MPH Program – for those who want to earn both their medical degree and a masters of public health (MPH), this is the program for you. An MPH is a highly coveted post-graduate qualification that will better equip you for careers in primary care, international health, or really any specialty.
Accelerated Premedical Program – for those who want to change careers, have always dreamt of being a physician, or are high school graduates, this program will give you the credits and background you need for direct admission to our MD program.
Contact our Admissions Team and begin your journey!