THE ROLE OF PSILOCYBIN IN DEPRESSION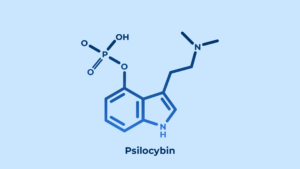 A 2021 study conducted at Yale University indicates that psilocybin, a psychedelic compound found in magic mushrooms, has the ability to prompt neural plasticity and remodeling of the neurons in the brain resulting in immediate increase in the number of neural connections in the frontal pyramidal cortical cells in mice.
Pyramidal cells within the frontal cortex are responsible for processing various sensory input associated with thinking and behavior regulation in the brain and are associated with depression. This increase in the spine density and size of the frontal cortical pyramidal cells appears to persist for at least one month and was shown to decrease stress-related behavioral deficits in mice.
This remodeling of the frontal pyramidal cells may be the underlying mechanism that explains psilocybin antidepressant effect.
UHSA PARTNERS WITH REVIVE TO STUDY THE ROLE OF PSILOCYBIN
The University of Health Sciences Antigua recently formed a collaboration with Revive Therapeutics of Canada to study the impact of psilocybin and other psychedelic medications on the treatment mental health disorders.
LIVE YOUR DREAM OF BECOMING A PHYSICIAN
As the second oldest private medical university in the Caribbean Basin we know what it takes to succeed.
Whether you want to practice internal medicine, family medicine, general surgery, or any of the multiple specialties that make a difference in the lives of patients every day, UHSA can help you live your dream!
Accelerated Premedical Program
If you are a high school graduate, or a university graduate who lacks the premedical pre-requisite courses, why not join our premedical program? It will give you all the credits you need to be promoted to our world-class MD program.
If you are a university graduate who has the premedical pre-requisites, then look at direct entry into our MD program, where you will learn to be not only a physician, but a healthcare leader.
Earn Your MD and Masters of Public Health
We also offer a joint MD/MPH program. Our joint MD/MPH program is great for those who want to enhance their credentials when applying for residency, want to enter a primary care residency program that values prevention, want to undertake training in preventative medicine, or who want a career in global public health.
Contact our admissions team to learn more about living your dream!