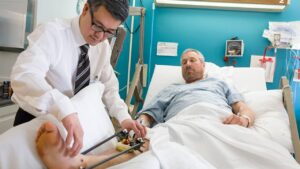 What is Physical Medicine and Rehabilitation?
Only one of the best paid, highest satisfied, lowest-hour specialties out there.
According to the American Association of Physical Medicine and Rehabilitation (AAPMR), physical medicine and rehabilitation is about restoring functional ability and quality of life to those with physical impairments or disabilities that affect the brain, spinal cord, nerves, bones, joints, ligaments, muscles, and tendons.
Specialists in this field are called physiatrists, and unlike other physicians who focus on curing patients, the goal of the physiatrist to maximize the ability of patients to return to function following an injury, such as a stroke or accident. Physiatrists work in teams, including surgeons, neurologists, psychologists, physical therapists, occupational therapists, and nurses to design and implement rehabilitation programs. Often, they serve as the team's coach in terms of designing and implementing rehabilitation following the acute stage of the injury.
Many physiatrists state that the greatest part of their job is helping people improve their quality of life. For example, one physiatrist stated that he enjoys taking patients who have been injured, and who believe they will never participate in their favorite activities again, and helping restore their lives and sense of independence.
Where do Physiatrists Practice?
Physiatrists can work in almost any setting where rehabilitation is needed.
Physiatrists work in many different settings, including hospitals as well as outpatient clinics. Some of the most common diagnosis seen by physiatrists include spinal cord injury, brain injuries, stroke, multiple sclerosis, burn care, orthopaedic injuries, occupational injuries, and chronic pain.
Regardless of where they work, a recent physician satisfaction survey found that physiatrists rank near the top when it comes to job satisfaction, feeling that they are well-paid, and having enough time off for family and outside interests.
Physical Medicine and "Relaxation"
That's right, they call their specialty physical medicine and "relaxation."
You may have heard doctors talk about lifestyle specialties. A lifestyle specialty combines good pay, good hours, and a relaxed call schedule. Lifestyle specialties, like dermatology, are highly coveted, and difficult to match into. However, there are a few little-known lifestyle specialties that are easier to secure, including physical medicine and rehabilitation.
A friend of mine, whom I met years ago on a redeye flight between Fiji and Los Angeles, practices physiatry in Anchorage, Alaska. He told me that physiatrists jokingly refer to their specialty as "physical medicine and relaxation." The reason for this is the low-key nature of the work. My friend tells me that he routinely takes call for fourteen days straight, and in nearly fifteen years of practice, is paged maybe once in that entire two weeks stretch. Find a surgeon, internist, or obstetrician who can tell you that!
With an average salary of $308,000 USD per year, physiatry is paid at a higher level than all of the primary care specialties. Couple the pay with reasonable hours, generally around forty-eight hours per week, and low call, and you have a very attractive lifestyle specialty that is widely open to graduates of foreign medical schools.
Alternative to Orthopaedic Surgery
Orthopaedic surgery is hard to get, PM&R, not so hard.
I know many of you dream of becoming a specialist in orthopaedic surgery. However, orthopaedics is not only one of the top paying specialties, but it is also one of the most competitive alongside specialties such as ophthalmology and neurosurgery. My friend from Anchorage is a full-partner in an orthopaedic surgery group, overseeing the rehabilitation of their patients.
Physiatrists often times work in the same clinical settings as orthopaedic surgeons. And while they may not be performing surgeries, they are responsible for the rehabilitation of patients who have had orthopaedic surgery, ranging from elderly patients with hip replacements to top ten football players who were injured in the playing field. So, if you dream of becoming an orthopaedic surgeon, you may want to consider physiatry as an alternative.
AAPM&R Student Membership
They welcome medical student members, for free!
You can join the American Academy of Physical Medicine and Rehabilitation for free as a medical student. This is a great opportunity to explore the specialty, learn more, and see if physiatry is your future.
Join the UHSA Family: Live Your Dreams
If you're honest with yourself, I bet you have always wanted to be a physician.
Maybe it was a trip to the paediatrician as a child when you first saw the kindness and compassion in your doctor's eyes as they soothed your fears. Or maybe it was a life-altering event, such as a major illness, that affected you or a family member, and the calm manner in which the doctors responded. Perhaps it was a family member that is a physician, and that you have always dreamed of emulating one day. Or maybe, just maybe, you simply have a burning desire to make the world a better place!
Regardless of why you want to become a physician, we can help you go from dream to reality.
Plus, there has never been a better time to become a doctor. In June 2020, the American Association of Medical Colleges reported that the US is facing a shortage of 139,000 physicians by the year 2033. You can help fill that gap, you can bring care to those who need it most, but you have to earn your medical degree first.
We have multiple programs that can help you live your dream. If you have the premedical requirements, then our direct entry MD program is right for you. If you are coming straight from high school, or need the premedical requirements, then our accelerated premedical program will get you from zero experience to MD in the shortest time possible. We also offer an exciting joint MD/MPH program for those who have an interest in preventative medicine, global health, or just becoming better doctors.
Contact our Admissions Team to learn more.