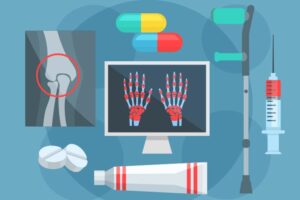 RHEUMATOLOGY: DISEASES OF THE MUSCULOSKELETAL SYSTEMS
Rheumatologists treat diseases of the musculoskeletal system such as osteoarthritis and gout in addition to complex systemic diseases like lupus and rheumatoid arthritis.
Rheumatology is a subspecialty, meaning that you must first train in another specialty before undertaking a fellowship to become a rheumatologist. There are two routes to becoming a rheumatologist.
First, completion of an internal medicine residency (three years) followed by a rheumatology fellowship (two years) to treat adult rheumatological conditions. Second, completion of a pediatrics residency (three years) followed by a rheumatology fellowship (three years) to treat pediatric rheumatological conditions.
ADULT RHEUMATOLOGY
Adult rheumatologists deal mainly with people with chronic diseases that are not curable. Diagnostic challenges are common in rheumatology, as evidenced by the treatment of rare diseases such as scleroderma, amyloidosis, vasculitides, and polymyositis. They interpret complicated rheumatologic blood tests and perform joint aspirations and steroid injections. What are complex presentations of disease for your colleagues, will, in your eyes, appear as routine manifestations of common rheumatologic disorders. Depending on your orientation to laboratory research, you may find yourself working within an overlapping world of rheumatology, immunology, and genetics.
The treatment of rheumatologic disease most often consists of immunosuppression as well as adequate pain control. Future advances in gene therapy could potentially revolutionize therapeutic options within the field of rheumatology. Fellowships in rheumatology require 2 years of additional training.
ADULT RHEUMATOLOGY SALARY
Average salary of $262,000 per year (2020), with male rheumatologists earning an average of $288,000 per year compared to $240,000 per year for female rheumatologists. There tends to be on average a 25% pay gap among all physicians.
PEDIATRIC RHEUMATOLOGY
Pediatric rheumatologists have a gift for taking vague symptoms of aches and pains and rashes, and finding a diagnosis and treatment that can drastically improve a patient's quality of life. In the mysterious world of immune-mediated diseases, clinical and bench research are revealing that children and adolescents suffer from a set of diseases that is distinct from adult diseases. Juvenile rheumatoid arthritis (JRA), for instance, is falling out of vogue because it is not simply rheumatoid arthritis in a small person. Rather, the various juvenile inflammatory arthritides have distinct characteristics that need be taken into account when deciding on a plan of action. Other diseases pediatric rheumatologists diagnose and treat include Lyme disease, the various forms of lupus, and dermatomyositis.
Treatments for most rheumatologic diseases (anti-inflammatories and immunosuppressants) are not curative, but they are very effective in helping children live healthier, happier lives.
PEDIATRIC RHEUMATOLOGY SALARIES
Pediatric rheumatologists earn approximately $240,000 per year (2020). Pediatrics is consistently the lowest paid of the specialties, earning an average of $232,000 per year (2020), with male pediatricians earning an average of $263,000 per year, while female pediatricians earn an average of $210,000 per year. There tends to be on average a 25% pay gap among all physicians.
LIVE YOUR DREAM OF BECOMING A PHYSICIAN
As the second oldest private medical university in the Caribbean Basin we know what it takes to succeed.
Whether you want to practice internal medicine, family medicine, general surgery, or any of the multiple specialties that make a difference in the lives of patients every day, UHSA can help you live your dream!
Accelerated Premedical Program
If you are a high school graduate, or a university graduate who lacks the premedical pre-requisite courses, why not join our premedical program? It will give you all the credits you need to be promoted to our world-class MD program.
If you are a university graduate who has the premedical pre-requisites, then look at direct entry into our MD program, where you will learn to be not only a physician, but a healthcare leader.
Earn Your MD and Masters of Public Health
We also offer a joint MD/MPH program. Our joint MD/MPH program is great for those who want to enhance their credentials when applying for residency, want to enter a primary care residency program that values prevention, want to undertake training in preventative medicine, or who want a career in global public health.
Contact our admissions team to learn more about living your dream!