COMPARING NURSE PRACTITIONERS AND PHYSICIAN ASSISTANTS
Mid-level providers are those who provide a level of care below that of a physician, but with a degree of independence and practice that allows them to still provide high-quality care. They are full members of the healthcare team, working alongside physicians, nurses, laboratorians, and others to ensure that each patient receives the care they need.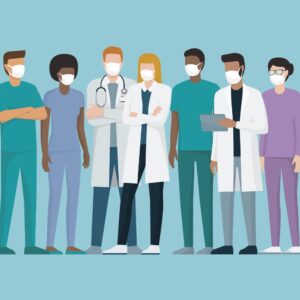 Mid-level providers generally come in two forms in the United States, including physician assistants, often abbreviated as PA, and nurse practitioners, who are a form of advanced practice registered nurse often called an NP. While both NPs and PAs can provide quality care, there are some essential differences between the two.
DIFFERENCES IN TRAINING
One of the biggest differences between the PA and NP professions is the training model from which the students learn. Physician assistants train using the medical model, similar to physicians, which means they focus on the testing, diagnosis, and treatment of the disease that the patient has. Nurse practitioners train on the nursing model, which means they focus on the testing, diagnosis, and treatment of the patient with the disease.
While the outcomes of the two training models are similar, philosophically they are very different. As an NP, you will look at how the illness affects the quality of the patient's life. You will focus on health promotion and restoration and consider how individual patients, families, and communities react to the illness based on factors such as racial, ethnic, and cultural beliefs or socioeconomic status. Nurses look to how the treatment plan can be implemented in a way that values individuals and families preferences and beliefs. PA's tend to look first at the pathology of the problem and then how to cure it. Looking for disruptions in the pathophysiology of the body, a PA focuses on the biologic aspects of diagnosing and treating the disease.
SPECIALTY PRACTICE
PAs and NPs can both be found working in hospitals, clinics, and physician's offices. While they can fill similar roles within any given setting, one of the main differences is in how they come to their practice specialty.
Those who wish to become a PA must earn a bachelors degree with the same pre-requisite courses for medical school. They then go on to either a certificate or a masters program in physician assistant studies. Some older PA programs used to be offered at the undergraduate level; but those have been phased out, and most are not at the masters level.
PAs train as generalists, which means that after graduation they can practice in almost any field within medicine. This general medicine focus means that PAs can switch specialties throughout their career without the need for re-certification. Some PA's attend post-graduate PA residency programs and specialize, but most receive on the job training to fill in any gaps in their general medical knowledge. Some specialties that are popular with PAs are emergency medicine, surgery, or orthopedics.
Conversely, NP programs include a concentration on a specific patient population. Areas of specialty could include acute care, adult, family, gerontology, neonatal, oncology, pediatric, or women's health. The programs, which are offered online, allow busy registered nurses (RN) to pursue advanced practice while continuing to work. While a PA must take the same premedical coursework that an applicant to medical school must take, nurse practitioners take these same course as well as the courses need to become registered nurses first, and often times have many years of experience as an RN before becoming an NP.
CERTIFICATION AND PRACTICE
NPs earn a primary certification in their area of specialty, such as family medicine, psychiatry, or others. NPs can seek independent prescriptive authority at the state level, which means they can treat and prescribe independently without the supervision of a physician in many states. Other states may require them to work in collaboration with a physician.
PAs takes a general certification exam called the Physician Assistant National Certifying Exam (PANCE). PAs, however, work under the supervision of a licensed physician. The topic of independent practice is a hot one in the PA world with organizations such as the American Academy of PAs (AAPA) advocating for the elimination of unnecessary supervision requirements in order to better serve patients, especially in underserved areas.
The salary and job outlook for both professions is also very similar. According to the U.S. Bureau of Labor Statistics, the PA profession is expected to grow 31.3% through 2029, and the median annual salary is $112,260. The NP profession sees equally strong numbers with an expected growth of 52.4% through 2029 and a median annual salary of $109,820.
According to the U.S. News and World Report, PAs are ranked the #1 Best Healthcare Job, with NPs ranking right behind at #2.
READY TO START YOUR MEDICAL CAREER?
While a career as an NP or PA is rewarding, we know that your lifelong dream is to become a physician. So, why not start living that dream today with the help of UHSA?
For those of you have graduated from university and have the premedical requirements, our direct-entry MD program is for you.
If you are still missing some premedical courses, are a recent high school graduate with your eyes set on the prize of becoming a doctor as quickly as possible, then our accelerated premedical program is right for you.
We also offer an innovative joint MD/MPH program that will allow you to graduate with both your medical degree and the much-respected masters of public health. This will enhance your career prospects, as well as prepare you for careers in areas like preventative medicine and international health.
Let us help turn your dream into reality. Contact our Admissions Team today to learn how you can join the UHSA family!