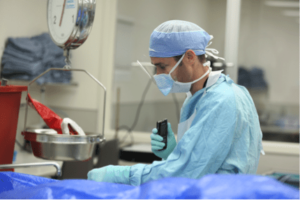 SHERLOCK HOLMES + DR HOUSE = FORENSIC PATHOLOGIST
Do you love the idea of being a detective and a doctor? Do you love procedural crime dramas on television where the detectives rely on the data provided by a medical examiner to solve the case? Are you interested in coupling the basic sciences with clinical sciences? If so, then a career as a forensic pathologist is right for you!
Forensic pathologists are specialist physicians who determine the cause of death in cases which may include legal proceedings.
Every day, in the hospital, at home, and out on the streets, people die unexpectedly. Some deaths are unexplained or have suspicious circumstances, while others are secondary to violent trauma, homicide, or suicide. In these instances, the bodies are transported to the county coroner's office, where forensic pathologists perform a partial or complete autopsy examination.
Forensic pathologists establish the cause of death through gross inspection, microscopy, toxicology tests, and crime laboratory methods. In addition to performing autopsies and writing the official report, they also occasionally testify in court. In some cases, the forensic pathologist even visits the crime scene to conduct an investigation. Many forensic pathologists serve as chief or deputy medical examiners of a city or county.
WHAT IS THE TRAINING REQUIRED?
To become a forensic pathologist, you must first complete a four-year residency in anatomical and clinical pathology. After that, you undertake a one year forensic pathology fellowship. These fellowships usually occur within a county or city medical examiner's office. For example, the largest forensic pathology fellowship occurs in the Office of the Chief Medical Examiner of New York City.
HOW MUCH DO THEY MAKE?
Depending upon the agency which you work for, the typical forensic pathologist makes between $250,000 to over $400,000 USD per year. Plus, many forensic pathologists consult on the side in major trials, which can net them an additional $50,000 or more per year reviewing cases for either prosecution of defence lawyers.
I HEARD THERE IS A SHORTAGE. IS THAT CORRECT?
Yes, there is a shortage of forensic pathologists. This is actually really good news for those who want to pursue a career in forensic pathology. It means that you will have your choice of jobs. Plus, it means that fellowships in forensic pathology will be easier to get. For those who are foreign medical graduates, this is a great combination for a rewarding and well-paid career in an area of medicine that most medical students know little about. A great opportunity to be a well-respected super-specialist.
HOW DO I LEARN MORE?
The American Medical Association has a great article in which they shadow Judy Melineck, MD, a forensic pathologist who works in a government coroner's office as well as a private practice consultant. Highly recommended.
READY TO START YOUR MEDICAL CAREER?
Join the UHSA family to live your dream of becoming a practicing physician. With three programs to choose from, one will be right for you.
Traditional MD Program – for those who have the premedical requirements, and want to attend the second oldest medical school in the Caribbean, our traditional MD program is right for you.
Combined MD/MPH Program – for those who want to enhance their credentials and earn a masters of public health at the same time, this program is right for you.
Accelerated Premedical Program – for those who do not have the required premedical credits, this program will get you the credits you need to enter our MD program directly.
Contact our Admissions Team today to learn how you can join the UHSA family!