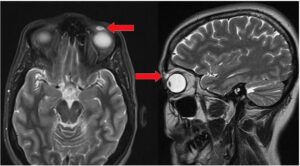 MISSING CONTACT LENS FOUND 28-YEARS LATER
While playing badminton one spring day in England, a 14-year-old girl discovered the vision in her one eye to be blurry. Later she discovered she had lost one of her contact lenses. She didn't think much about it until three decades later, doctors found the contact lens embedded in her eyelid.
According to a report published in the British Medical Journal, the then 42-year-old woman went to the eye doctor after her left eyelid became swollen and started to droop. Tests revealed she had a cyst in her eyelid, which was surgically removed. But inside the cyst was the missing contact lens. The woman had lost the lens when she was 14-years-old, after she was hit in the eye with a shuttlecock during a badminton game. It appears that the trauma caused the lens to migrate into her left eyelid, her doctors said.
YOU CAN'T TREAT A FUNGAL INFECTION WITH GARLIC; BUT YOU CAN BURN YOURSELF
When a woman in England developed a fungal infection on her toenail and big toe, she decided to try a home remedy: garlic. But the garlic treatment not only didn't work, it caused severe burns on her skin. The woman had applied slices of raw garlic to her toe for up to 4 hours a day for a month, according to a case report in the British Medical Journal.
Garlic contains a sulfur compound called diallyl disulfide, which can irritate the skin and cause burns or lead to an allergic reaction. The woman's doctors advised her to use standard treatments for fungal foot infections, which include antifungal creams and prescription drugs.
FASCINATED BY HOW THE BODY WORKS?
If you are, then you should be a physician. Physicians not only understand how the body should work, but they understand what happens when it quits working properly. Or in other words, when disease strikes. They are also experts in addressing these diseases.
If this sounds like you, then why not join the UHSA family? We are the second oldest medical school in the Caribbean, and have been producing amazing doctors since 1982. With our help, you can join the ranks of graduates who practicing in the United States as well as all over the world; healing and helping.
To find out more, contact our Admissions Team today!