Family Medicine: Diversity and Opportunity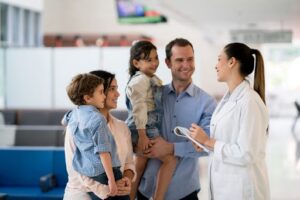 For those who want to do a little bit of everything, from office surgery to delivering babies, nothing beats the breadth, depth, and opportunities offered by a career as a family physician.
The specialty of family practice encompasses such a wide range of medicine that it is difficult to truly define a single scope of practice. Some physicians devote most of their time to high-risk obstetrics and operative deliveries, and others manage a harried clinic full of adults, children, and elderly in varying states of wellness and sickness. In the tradition of this community-based specialty, family physicians are well integrated into their communities and actively address issues in their patients' lives other than medical problems.
This is why family medicine doctors serve as advocates—for patients, health care systems, and social change. No matter the role, these physicians emphasize health maintenance, disease prevention, and medical treatment, always aware of the psychosocial dimensions of their patients' lives.
What Qualities Make a Great Family Physician?
Enjoys taking care of entire families.
Relates well to all types of patients.
Is an independent, creative, easy-going person.
Prefers knowing a little about everything in medicine.
Likes being heavily involved in patients' lives.
What is Residency Training in Family Medicine Like?
Residency in family practice requires 3 years of postgraduate training. There are currently 497 accredited programs. Unlike other specialties, nearly all programs are sponsored by community teaching hospitals that carry some kind of affiliation with a medical school. The curriculum is the broadest of all specialties. Integrating both inpatient and outpatient experiences, residents spend several months rotating through multiple specialties: family practice, internal medicine, obstetrics, gynecology, surgery, emergency medicine, critical care, psychiatry, and numerous medical and surgical subspecialties.
Call schedules and work hours depend upon the specific rotation. In the first 2 years of training, there is a greater emphasis on inpatient rotations; the final year consists of more ambulatory experiences. Throughout the entire program, residents carry their own set of patients and provide ongoing care to the same patients in the family practice center.
Why a Career in Family Medicine May be Right for You
Since its creation as an official specialty in 1969, family practice has fluctuated in popularity. Driven by technical and financial incentives, most medical students chose to enter medical or surgical specialties (and subspecialties) instead of careers in primary care. But medicine became far too fragmented with the increase in specialization, so in the late 1980's, a movement began that encouraged students to consider entering primary care fields again. It worked. The popularity of family practice jumped accordingly. More and more graduating physicians became family physicians. After all, family practice is the perfect specialty for those who love everything about medicine and want to become just like general practitioners— the very first physicians.
Family practice is an essential specialty that meets much of the nation's health care needs. As the only doctors who orient care toward the family and the community, family physicians treat nearly everyone, whether insured or uninsured. Knowing their patients' life and clinical history better than anyone else translates into higher quality, individualized patient care—treating the patient, not the disease.
As the initial point of contact, family physicians guide patients through the complex health care system, directing them to appropriate tests and specialist referrals when necessary. At every step, family doctors treat all problems, unless they require additional testing or evaluation by a specialist. You are, essentially, a patient advocate, making an incredible difference in their lives. Because of the universal need for family doctors across the country, they are well represented in both urban and rural areas, which means you have a great deal of career flexibility.
If you have a desire to be a primary care physician, then definitely consider this specialty. You will provide comprehensive care for a huge diversity of patients, have long-term rewarding relationships, and focus on preventive medicine and health maintenance. You will diagnose all types of diseases in kids and adults, deliver babies, and perform minor surgery. You may even become formally involved in health policy or public health. But most important, as a family physician you will apply concepts of medicine and health care to any community you choose to serve.
Ready to Start Your Career as a Future Family Doctor?
If you are, then UHSA is for you. We are the second oldest medical school in the Caribbean Basin. That means we know what it takes to make great doctors. We have three programs for you to choose from.
Traditional MD Program – for those how have pre-requisites need for admission to medical school, this is the program for you.
Joint MD/MPH Program – for those who want to earn both their medical degree and a masters of public health (MPH), this is the program for you. An MPH is a highly coveted post-graduate qualification that will better equip you for careers in primary care, international health, or really any specialty.
Accelerated Premedical Program – for those who want to change careers, have always dreamt of being a physician, or are high school graduates, this program will give you the credits and background you need for direct admission to our MD program.
Contact our Admissions Team and begin your journey!